Pasture-Raised Lamb – Dorper Sheep
We have partnered with Thorpe Farms and will be selling their lamb at the store. Thorpe Farms shares our values, ensuring their animals are 100% grass fed & finished.
The young Ontario lambs are raised on free-range pastures, are treated with love and kindness, and are provided with a stress-free life. The flock is raised on rotational, no-spray grasslands, where they roam all spring, summer and fall, enjoying the many apple trees found along the fence line. Over the winter, they eat 100% non-GMO grass and hay, cut from the same naturally-grown pastures.
Breeding Dorper Sheep
Dorper sheep originated in South Africa and were the result of crossing Dorset Horn with Blackheaded Persian sheep. Two varieties of Dorper Sheep were created: the black headed Dorper and an all white variety, the White Dorper sheep.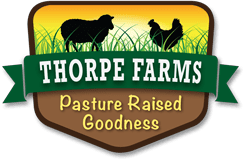 Location
10481 Community Centre Rd (12.14 mi)
Baltimore Ontario K0K 1C0
Winter Hours
Tuesday Wednesday Friday:
10:00 - 4:00pm
Saturday:
10:00 - 2:00pm
Closed Sunday, Monday, Thursday

Summer Hours
Tuesday Wednesday & Friday:
10:00 - 6:00pm
Saturday:
10:00 - 4:00pm
Closed Sunday, Monday, Thursday

© 2020 Aird Family Farm. All Rights Reserved.